This article first appeared on iMoney.SG.
You're probably on the constant lookout for discounted airfare. After all, Singaporeans are frequent air travellers – in 2017 alone, there were over 8 million outbound departures made by air. That's an impressive figure for a city-state with a population only of 5.6 million.
Unfortunately, the pursuit of cheap flights sometimes leads people into practising archaic rituals that don't actually work, such as buying plane tickets on a Tuesday or clearing browser cookies.
Fret not, however – here are five ways you can score cheaper flights that actually work:
1. Time your bookings
One of the most effective ways of getting cheaper flights is to be smart about timing your travel dates and bookings. Here are a few tips to help you get the cheapest prices:
Fly during cheaper months. Apart from avoiding off-peak seasons, if you already have a destination in mind you'll want to know when the cheapest months to fly are. Some sites, like Skyscanner's Cheapest Month tool, will help you instantly identify them.
Be flexible with travel dates. Sometimes, flight prices can vary greatly even among different days in the same week. Not being tied down to a date means being able to choose a cheaper flight on a different day if the opportunity arises.
Book your flight in advance. Booking months ahead is your best bet to scoring huge savings. Last year, Skyscanner analysed three years' worth of data to find out how far in advance Singaporeans should book their flights for these top searched destinations:
It seems that the best times for Singaporean travellers to book a flight would be between 21 to 25 weeks in advance. However, travel search engine Kayak also recently revealed that the best times to book flights for the Singaporeans' most searched destinations of 2018 was 1 to 5 months in advance, depending on your destination.
While contradicting results from Skyscanner and Kayak might suggest that determining the best time to book isn't an exact science, we can probably all agree on one thing – booking your flight days or weeks before means paying a premium on your ticket.
It's best to book at least a month or two in advance to take advantage of potential savings. Besides, planning your holiday far ahead means having something to look forward to during dreary days where you're holed up in the office.
2. Use a flight comparison site (or two)
Instead of checking flight prices for individual airlines, use a flight comparison site to instantly compare all available airlines. However, don't stick to a single comparison site, as prices can differ from one site to another.
To illustrate the price differences, we compared these popular sites for the cheapest direct return tickets to five destinations in the month of January 2019:
Kayak and Momondo come out top for generally lower prices, offering the lowest prices for three out of five destinations. As an added advantage, Momondo can easily filter flights that are the cheapest, the quickest or the 'best' (best flights are determined by balancing trade-offs between price and flight length). On the other hand, Google Flights wins at speed and responsiveness, but doesn't always display the cheapest fares.
While you may not get drastically cheaper prices by using one comparison site over the other in most cases, it does help shave a bit off your ticket.
3. Track flights to take advantage of price drops
If you know where you want to go ahead of time, you don't have to book your flights immediately. Instead, track your flights to take advantage of price drops. This doesn't mean obsessively checking prices every day – all you need to do is set a price alert in your flight comparison site of choice, and you'll be notified in the event of a price drop.
Setting up alerts on several sites can help you cast a wide net for the best prices, if you don't mind having constant updates being mailed to you. Once you've booked your flight, you might want to consider unsubscribing from existing alerts, lest you suffer from buyer's remorse if prices drop beyond what you've paid for.
4. Monitor social media for travel promos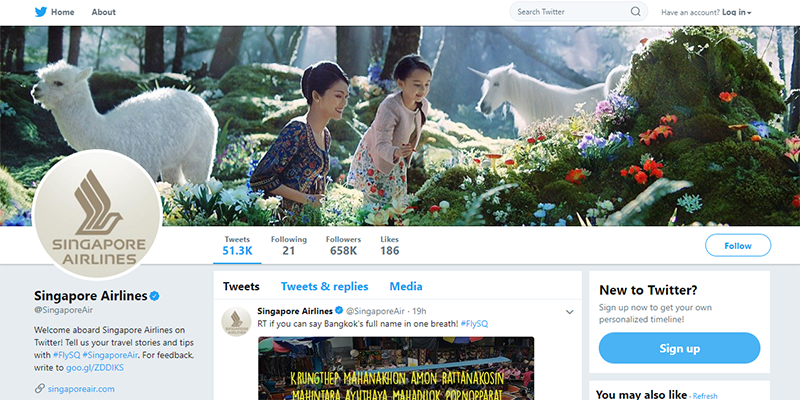 Make your social media addiction work for you by adding popular airlines to your network. Doing so will allow you to discover ongoing promotions without going out of your way to look for them. Don't forget to subscribe to their mailing lists as well, as airlines can sometimes release exclusive promotions via social media pages or email.
Here are a few airlines you can consider subscribing to and adding to your social media network:
5. Use your air miles to redeem flights
The only thing better than a cheap flight is one that's completely free. When you spend with the right credit card, you'll be able to rack up air miles that can be used to redeem free flights. Here are two things you need to know about racking up air miles:
Use the right credit card. Besides making sure that your credit card actually allows you to redeem air miles on spending, you should also find one that complements your spending habits and maximises the rate in which you earn air miles.
Use your credit card to pay off all expenses. Using your credit card to pay off daily expenses like food, groceries and petrol means that you'll be earning miles every day. However, do ensure that you have enough cash to pay off your credit card debts later.
Another tool you'll want to have in your arsenal is CardUp. This online platform allows you to make big payments by credit card, even to recipients that don't accept them. This means being able to earn a substantial amount of air miles on big-ticket payments normally not payable by card. Currently, CardUp supports payments for the following:
While CardUp does charge a 2.6% fee for each transaction, the miles that you'll redeem will outweigh these costs. For example, here's how much miles you'll be able to redeem by spending the following with the Citi PremierMiles Visa Card:
Spending the amount above will allow you to redeem 1 return business class ticket to South China, Hong Kong or Taiwan (worth approximately $2,360) with 7,421 air miles remaining. Best of all, you'll be earning miles on top of existing payments that you need to make anyway.
Wield your card wisely and book in advance
Ultimately, the easiest ways you could do to get cheaper (or free) flights is to simply book in advance, and take advantage of your credit card. They require fairly little effort but can result in pretty huge savings.