If you are a growing business looking to streamline your accounts payable and receivable processes, including trying to improve cashflow, you should know that digitising and automating those processes are the best way to go.
A good payment platform accomplishes this by helping your business:
Save hours of manual work through process automation
Speed up financial consolidation process through real time updates
Improve cashflow by allowing payments to instantly reflect on your end
These end goals will immediately elevate your payment processes but, to achieve them, it's important to choose the right payment platform for your business.
Before choosing a payment platform, here are the 5 most important things to consider to make an informed decision that's right for your business:

Onboarding cost and speed
Onboarding a new platform can seem daunting and overwhelming, especially for new businesses. A thorough application processes involving Know Your Customer (KYC), Know Your Business (KYB) and/or Due Diligence (DD) could take days if not weeks, to get approval. Plus, costs involved, such as setup fees and yearly maintenance can cost a fortune. This often halts many businesses from using a payment platform despite its long term benefits.
Our solution:
At CardUp, everything is quick and easy, with minimal cost. There are no setup or maintenance fees. You're guaranteed to have a smooth and quick onboarding process, because the sign up process literally takes you minutes (not days)!
While there are some sectors that CardUp is unable to support, we welcome businesses of all sizes, as long as the payments your are processing are business-related.
Pricing and fees
The typical costs involved when using a payment platform include: setup fees, platform fees, payment method costs, and FX costs. Finding the most cost-effective choice for your business is not easy, as both the size and value of your transactions need to be considered. Plus, many payment platforms are not transparent in their pricing, often surprising you with hidden fees later down the line. All of this ultimately impacts a business' profit margins.
Our solution:
CardUp offers transparent pricing for all your business payments. Our pay-as-you-go plan offers a flat rate of 2.6% per transaction, and covers all the processing costs, including paying the card issuing banks and network providers for each transaction made. The fee ensures our platform remains secure for your everyday use. The only exception? If your customers use an international credit card (then the fee is 3.3%).
Want a free solution? Collect payment via PayNow and enjoy 0% fees until December 31st, 2023. Finally, because CardUp is a dual sided platform, you can enjoy further discounts on your payments you need to make. These can be customised to as low as 0.8% - get in touch with us to learn more.
Technical integration
Some payment platforms have complex backend architecture and require a certain level of technical expertise. If you don't have in-house tech support or expertise, you have to rely heavily on your payment platform provider and this can be very time consuming.
Our solution: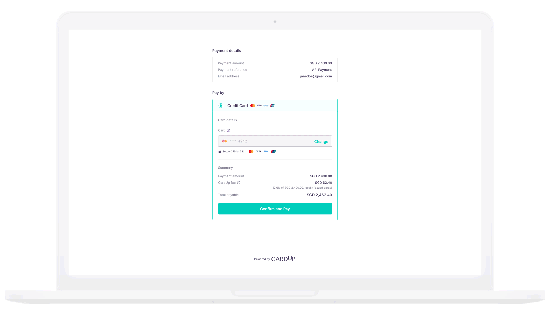 CardUp is a no-code platform. Simply put, this means that you don't need any technical skills or integrations to use it. Simply create an account and you can start making and collecting payments in a matter of minutes. Plus, it's super easy to use, so you'll be up and running within a day!
Want to integrate our platform into your existing website or app? No problem. We also offer customisable API connections for businesses.
Features available
Understanding your financial goals will help make finding the right payment platform for your business easy. For example, if your business would like to optimise your working capital, the payment platform you choose should offer credit card as a payment options so you can fully utilise your credit card lines and defer your credit card payments by up to 2 months - easily free up more cash on hand!
Our solution:
Making or collecting payments couldn't be easier with CardUp. Our product features always center around our main mission - to provide individuals and businesses with a better way to pay and get paid.
Here are some of our exciting new features release:
Cross border payments:

Make payments to over 40 countries in more than 20 currencies, at the

best exchange rate

and lower transfer cost in the market.

Next day payout: Get funds deposited directly into your bank account in as fast as one business day.
Collecting recurring payments: Get paid on time by automatically collecting a fixed amount from your customers every month.
Integration with other systems
Finally, consider whether you need your payment platform to connect with your existing invoicing or accounting software, such as Xero or SAP. This way, when an online payment takes place, the respective invoice will be automatically updated in your accounting software - saving you a lot of time and effort as you no longer have to manually update or keep track of any incoming and outgoing payments.
Our solution:
If your business uses Xero to issue invoices to customers, you can easily connect your CardUp account to your Xero account. Your customers will be able to pay for your invoices in just one click, and choose whether to pay via credit cards or PayNow. Learn more about Xero and Cardup here.
Choosing the right payment platform
Before deciding on which payment platform to use, make sure to do proper research on the different options available and identify the platform that's most suitable for your business. It is important that you fully understand what you're signing up for. Remember to consider:
The cost and time it takes to onboard

The fees and pricing structure

What technical integration skills are required

What features you need to better manage your business

Whether you need to integrate it with other software
Finally, don't forget to look forward and consider whether the platform will be suitable as your business grows. As you start to process more and more payments, you'll need to make sure that the platform can support you every step of the way.